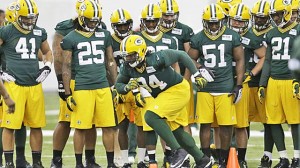 The Packers must cut 22 players by 4 p.m. ET on Saturday 8/30 to reduce their rosters to a maximum of 53 players. Check this page frequently, as we will post updates as the Packers roster cut to 53 unfolds.
Here are the Packers first 2014 roster cuts that reduced the 2014 roster to 75.
Here are the final roster reductions from 75 thus far:
1. T Aaron Adams (waived/injured)
2. CB Ryan White
3. T John Fullington
4. RB Michael Hill
5. G Jordan McCray
6. S Tanner Miller
7. WR Alex Gillett
8. CB Jumal Rolle
9. OLB Nate Palmer (injured reserve)
10. LB Adrian Hubbard
11. S Chris Banjo
12. WR Myles White
13. DT Carlos Gray
14. WR Kevin Dorsey
15. LB Jake Doughty
16. TE Jake Stoneburner (waived/injured)
17. DT Kyri Thornton (injured reserve)
18. C Garth Gerhart
19. TE Justin Perillo
20. RB LaDarius Perkins
21. DE Luther Robinson
22. T Jeremy Vujnovich
To see a list of roster cuts by all NFL teams, click here.