The Green Bay Packers seemingly have no real reason to draft a quarterback in the first round of this year's NFL draft. But like they did in 2005 they just might do it. While current quarterback Aaron Rodgers is arguably the best in the league, his unhappiness with the Packers has to be a concern to the front office. It might be time for the Packers to start thinking about replacing him.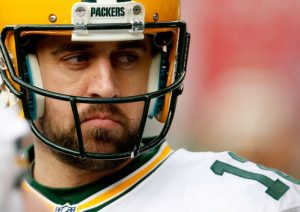 Rodgers recent comments on the Jason Wilde podcast expands on his comments made during Super Bowl week that he is not happy that he hasn't been involved in the team's personnel and coaching decisions this offseason. To me he sounds like a little baby cut from the LeBron James mold. He's no Brett Favre, that's for sure.
Looking at the draft this year I would have no problem with the Packers taking a QB at 14 or even moving up to get one. In fact, if Cleveland wanted to trade the first and fourth pick plus Tyrod Taylor I would take it in a minute. Rodgers has gone Hollywood and Green Bay no longer fits him. Outside of James I have not heard a player rip his team like Rodgers has done. And all this coming off a season in which brittle bones broke another collarbone. Again, he's no Brett Favre.
I am shocked by Rodgers' behavior this offseason. If he was coming off an MVP season maybe I could understand it. The defense let him down or something. But everything the Packers have done since their horrible 2017 season has been positive. They got a new GM, and new defensive coordinator, Joe Philbin is back as offensive coordinator. What is the problem here?
I think the comparison to James is spot on. But unlike James, Rodgers will not be able to pick his coach and players. That doesn't happen in the NFL. And look at James' team now. What a joke. And James has lost more championship series than he has won. Kind of like Rodgers in NFC Championship games. Maybe being a prick plays a bigger part of things than people think.
As previously mentioned, if the Packers did trade Rodgers I would not have a problem with it. Maybe there is more to the DeShone Kizer than we think. I find it hard to believe the Packers would go into this season without giving Rodgers a new contract or trading him. Unlike coaches, MVP quarterbacks are lame ducks with two years left on their contracts. I just can't see any way Rodgers plays this year with two years left on his deal and way underpaid.
Certainly my preference would be to sign Rodgers to a five year extension which would put him 41 when his contract expires. But if he doesn't want to be here, then so long and good riddance. He's not the most likable guy.
I have to think Packers' fans and the Packers' brass are thinking the same thing. How much guaranteed money do we give a guy that not even his family likes? It's going to be interesting.