The Green Bay Packers are on their fourth general manager since 1992 and two constants remain. Number one, the Packers have had a hall of fame quarterback, and number two, they refuse to give that quarterback the help needed to win Super Bowls. Two in 26 years with Brett Favre and Aaron Rodgers is not good enough.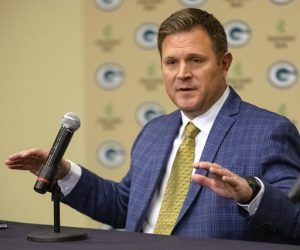 Brian Gutekunst did nothing the first two days of the draft to fix the Packers woeful receiver situation. The Packers currently do not even have two starting outside receivers on their roster. Bringing in a 31-year old tight end might help, but without another threat outside defenses won't have any trouble doubling him or Davante Adams. If I were a betting man I would check out NRL betting tips for some alternative action as I don't think betting on the Packers to win the Super Bowl would be wise.
The Packers can't expect any help the rest of the way as all the top WR prospects are gone. It's not likely they could find any immediate help in rounds 4-7, so they better think seriously about giving Dez Bryant a call with a blank check. If you thought Rodgers was upset before the draft, he must be seething right now.
Another gaping hole on offense is the offensive line. Jahri Evans is out as right guard and Bryan Bulaga is likely to be out after refusing to take a pay cut. The Packers may be able to address that need today, they do have eight more selections left and linemen can be found there. At this point I wouldn't bother trading any picks away. Take as many players as possible and hope you find a diamond in the rough.
Or maybe the Packers could use some of those picks to trade for a veteran receiver or lineman. At least they don't have to worry about running back this year, I saw enough out of last year's group to think that one of them will emerge as a true starter.
By the way, this is not a knock on the players the Packers took, I do think Alexander and Jackson will certainly improve the defense. Oren Burks is a hybrid safety/linebacker that I'm not sure how the Packers will use. True Ted Thompson pick there.
I just would have spread the wealth a little.