The Green Bay Packers have had a defense in decline for the last seven years, even with an influx of high draft picks. If early returns mean anything, that is about to change, and in a big way. New defensive coordinator Mike Pettine is no Dom Capers. They are the perfect definition of exact opposites. Capers was laid back and rarely raised his voice. Pettine is mean looking and loud and as already chewed out his team for sloppy practice, and they are still in shorts!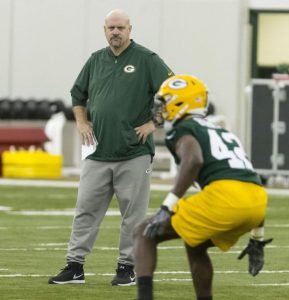 Defensive lineman Mike Daniels is a huge supporter and can't wait until the pads get on. He says he "feels free" now and can just go and play. To say he is excited would be the understatement of the year. With Kenny Clark and Muhammad Wilkerson, the Packers' defensive line is going to be tough to move. The last time the Packers had a top ten defense they won the Super Bowl, and with Pettine on board and return of Aaron Rodgers, the Packer's are once again among the odds on favorites to win the NFC according to this Super Bowl Odds Tracker. I don't know if I would go as far as to say the Packers can overcome the Vikings and the rest of the NFC, which is really strong, but they should be in the hunt if they have a improved defense.
Daniels praised Pettine's system as being simple and complicated at the same time while Caper's system required perfection. That makes a lot of sense when you look back at the last seven years. It was alway huge plays that hurt the Packers and usually because one player didn't do his job or was confused at what his job was. Too much before snap b.s trying to get set. It was nuts. I really don't know how Mike McCarthy justified keeping Capers all those years.
In the end, while it wasted some of Rodgers' prime years, it did allow the Packers to get Pettine. Of course, Pettine has to deliver a top ten defense, something he has done at every place he's been, even one of his two years as the Brown's head coach. And if he does turn around the Packers defense, that makes him a candidate for another chance as a head coach and just like that could be gone. However, at his introductory press conference he did not sound like a man itching to be top dog again anytime soon.
Maybe his next opportunity to be a head coach will be right here. I'd be OK with that.