Holy cow! Didn't see that coming. As you may know I predicted a fairly easy Bears win last night. No way I could have predicted the Packers' defense would be that good or that Mitchell Trubisky could be that bad. How is it that the Packers could be so blessed with bad Bears quarterbacks? Trubisky is Jay Cutler 2.0.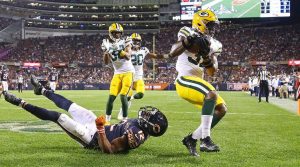 The Packers' defense thoroughly dominated the Bears' offense. And the icing on the cake was the game clinching interception by former Bear Adrian Amos in the end zone in the final two minutes. Yet another crushing defeat at the hands of their arch rival to the north. There is no team I like beating more than the Chicago Bears, and we have had their number for most of the last 27 years.
The one thing I was right on was the Packers' offense getting off to a slow start. I thought the rout was on after the Packers "gained" minus 17 yards their first two possessions. It was about as ugly as ugly can get. While it did get better after that, it wasn't by much. One long pass, one TD pass on a free play, and a fourth quarter field goal drive was about it.
Some questionable play calls on third down by head coach Matt Lafleur killed a couple of drives and I think four sacks came on third down. The fact that they couldn't run the ball a lick didn't help matters in the passing game, and there definitely seemed to be some confusion on the offensive side of the ball. That got so bad that Aaron Rodgers had to take a delay of game penalty rather than use the Packers last time out in the second half.
The offense will improve and when it does the Packers will be tough team to beat if the defense can keep playing like this. One thing I liked seeing was the re-emergence of the tight end. All three tight ends caught passes and Jimmy Graham got the TD. I also liked seeing Marquez Valdes-Scantling have a nice night as the number two receiver. He needs to keep that up to take some pressure off of Davante Adams.
There is no such thing as an ugly win in the NFL. The Packers are 1-0 with a key road win and three straight home games coming up. All of sudden things have gotten a lot more interesting in Green Bay.