The Green Bay Packers are facing the Washington Redskins Sunday in what everyone is saying should be a cakewalk for the Pack. I agree, it should be. I'm trying to find a way the Packers can struggle against the Redskins, but it's hard.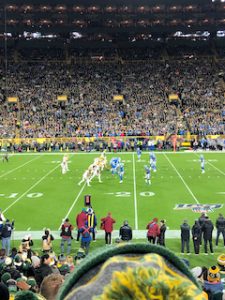 This is the view from my seat tomorrow. I've had good luck in this spot. This is from the Lions game in October. The Packers never had the lead, but won on the last play.
I don't think it will come down to the last play against the Redskins. But it could be a game like last week against the Giants when the Packers didn't pull away until the fourth quarter. I am really fighting predicting a blowout like 41-10. I'll settle at 34-17.