The Green Bay Packers face the San Francisco 49ers Sunday for the NFC Championship and one can only wonder if this dream season can continue. The worst 13 win team in history according to the media is on the verge of the Super Bowl. A Super Bowl that would bring quarterback Aaron Rodgers right back into the GOAT conversation. It won't be easy.
The Packers are 7.5 point underdogs to the 49ers after getting shellacked in Santa Clara on November 24 of last year. Since then the Packers were favored in all but the Vikings game and won all six, including last Sunday's divisional round win over Seattle. While sports betting is not available in Wisconsin, NFL Betting in Michigan is getting closer to fruition. That would make two reasons to visit our neighbors, if you catch my drift.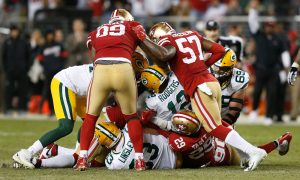 I do think the Packers are playing better than they were in November. After a perfect October that started with a win over the Cowboys in Dallas and ended with a win over the Chiefs in Kansas City, the Packers lost two of their next three games and barely beat the lowly Carolina Panthers in between. Since that 49ers game the Packers have played much better, especially on the defensive side of the ball. The Packers ended up ninth in the NFL in points allowed and pretty much shut down the Giants, Redskins, Bears, Vikings and Lions. The offense struggled a little at times but when the game was on the line Rodgers and company always find a way.
Against Seattle the Packers were solid on both sides of the ball. Rodgers and the offense jumped out to a 21-3 halftime lead. When Seattle scored to open the second half the Packers marched right down the field and scored again to restore their 18-point lead. Russell Wilson might be the best QB in the NFC and certainly top five in the NFL, you knew he was going to make a run with their season on the line.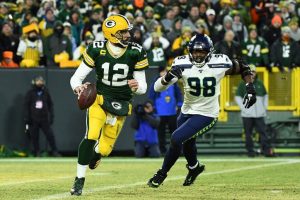 The final sequence of events was a microcosm of the Packers' season. Seattle was driving and had a third and five when Preston Smith roared around the right tackle and tight end and sacked Wilson. Then, facing two third-and-longs, Rodgers hit Davante Adams for 32 yards then Jimmy Graham for nine and the game was over. Clutch!
The Seahawks are a very good team but were ravaged by injuries. The Packers have been lucky in that regard this year as well. They faced the Chiefs without Patrick Mahomes and the Vikings without Dalvin Cook. The 49ers will be full strength Sunday and so will the Packers. It's going to be a bone-jarring meeting of the minds. Can't wait!