The Green Bay Packers have their work cut out for them on Sunday night as Aaron Rodgers looks to lead them to a Super Bowl for the second time in his career.
Heading into the NFC Championship game as 7.5 point underdogs, the Pack will need Rodgers to be at his very best if they are to upset the San Francisco 49ers who delivered a 37-8 beatdown when the two teams met in week 12. The Niners dominated in every department two months ago, but even with a big lead and a raucous Levi's Stadium crowd, coach Kyle Shanahan was not counting any chickens until the very end, because he knows that if anyone in the NFL can spark the most improbable of comebacks, it is indeed Rodgers.
Not only is Rodgers one of the most accurate quarterbacks of all time, but he is also as clutch as they come, and the 49ers defense will need to be wary of that if the Pack are still within touching distance in the fourth quarter on Sunday night.
Whether Rodgers still has the heroics of Super Bowl XLV in him remains to be seen, but there have been enough occasions this season in which the 36-year-old has carried the Pack over the line.
Against the Seattle Seahawks in the divisional round last week, it was Green Bay who burst into an early lead and had to survive the late Russell Wilson onslaught. The Packers hung on for their sixth consecutive win, helped in large part by their ninth-ranked defense.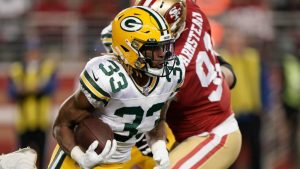 The 49ers, meanwhile, blew the Packers' NFC North rivals Minnesota out of the water, restricting the Vikings' elite running back Dalvin Cook to just 18 yards en route to a 27-10 triumph. Green Bay simply must find a way to get Aaron Jones going so that all does not rest on the shoulders of Rodgers.
Not only do NFL sportsbooks believe it will likely be the 49ers that move on to Miami, but they think the Packers will do well to get within one score of the NFC West champions.
Green Bay are priced at +265 to advance, with San Francisco a -320 favorite. The point spread opened at 49ers -7 and has since been backed into -7.5.
Rodgers has only been a 7+ point underdog three times in his career, and covered the spread on each occasion, so if his previous form is anything to go by, this could be a closer game than many expect.
Another angle to look at is the over/under on total points, for which the line has moved significantly since it opened. Having been initially set at 45 points, it is now at 46.5, which might tempt some punters given that neither team has hit the over more times than the under this season.
The climax of the NFL season is one of the best times to get involved with football betting, and there is a huge selection of welcome bonuses that you can claim in order to kickstart your account.
You can use sign up offers for betting sites in Canada not only to wager on who you think will win each NFL game, but also for team and player props such as total passing yards, interceptions, touchdown passes, rushing yards, receptions and more.
Rodgers' passing yards line is set at 239.5 – just a few yards fewer than last week but significantly more than the 104 he was restricted to last time the teams met.
Over 1.5 touchdown passes for Rodgers is at +100, so if you fancy him to show up when it matters most this weekend, that might be one of your better options.
For a season that has, in truth, not felt like a truly special one for the Packers, suddenly there is potential for it to become that and so much more, starting with the showdown in California on Sunday.