The Green Bay Packers have been quiet the first two days of free agency and there are a couple of reasons why that is not a surprise. First of all, the prices teams are paying are pretty much out of the question for the Packers, who have very little cap room to operate under. And secondly, there just are not that many quality player available this year at the Packers' position of needs.
The Packers did sign offensive lineman Ricky Wagner and linebacker Christian Kirksey. Possible starters but who knows how those positions will play out. Certainly Kirksey looks like a starter with the Packers losing both Blake Martinez and Kyler Fackrell to the New York Giants. But neither broke the bank or will make a splash like the Smith Bros. did last year.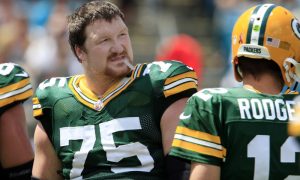 l am going to miss Bryan Bulaga. He was the quintessential Green Bay Packer. He could have played for Vince Lombardi. The Chargers desperately needed to update their offensive line and did just that. But $11 million a year was too much for a 31-year old with a long injury history. I hope he does well.
Looking at the leftovers there isn't anybody that stands out. At wide receiver there are a bunch of old guys and young never have beens. The only guy I would take a shot on is Breshad Perriman. Same at linebacker, bunch of nobodies. I don't expect the Packers will do much more, if anything, with this hapless class of players left.
I certainly don't want them spending money like the Bears did. $70 mil for 30-year old Robert Quinn? Are you kidding me? Even worse, they paid $16 mil to Jimmy Graham, who we all saw last year is a shell of his former self. If Aaron Rodgers couldn't make it work with Graham, how the hell is Mitchell Trubisky going to do it? Hilarious.
And I'm not exactly sure what the Vikings are doing. The Lions got an overpaid guard and and over the hill linebacker. The Packers staying cool is looking like the right move.