The Green Bay Packers are less than a week from opening the 2020 season and by most accounts it was an event free training camp. At least as event free as it can be considering the changes made due to the virus. The only people who disagree are the national media, who are trying their best to create an Aaron Rodgers hates his coach and management scenario, better for readership, you see.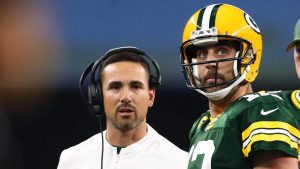 But the truth is Rodgers has had one of his best camps in years and seems in a totally different place mentally. He has taken the Packers' first round pick, Jordan Love, under his wing, promising not to treat him like Brett Favre treated him 15 years ago. It wasn't that Favre hated Rofgrers or anything like that, he just wasn't going to offer up a ton of advice. Favre was always worried about losing his job and wasn't going to help speed up that process. So who are you going to believe? The naysayers or the man himself. Check out www.bestsportsbooks.co for the best sportsbooks and see what you can get for the Packers and a happy Aaron Rodgers. I like their chances.
The other big storyline is the Packers don't have any receivers. Yet somehow they won 14 games last year. Yes, Davante Adams is heads and tails above the next man in that unit, but the Packers have young enough talent to believe that one of them will step it up this year. Alan Lazard will get that first opportunity but Marquez Valdes-Scantling made a lot of noise in camp, trying to bounce back from a baffling 2019. I also like what I have read about Malik Taylor, he has much more upside than Jake Kumerow in the WR5 slot.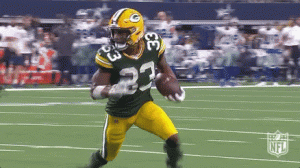 The Packers are no longer a pass first team. Aaron Jones proved to be one of the better running backs in the league last year and the Packers offense is more diversified with him healthy and a duel threat. And now the Packers added A.J. Dillion, the huge bruiser type they haven't had in years. This really gives the Packers a solid one-two punch with totally different styles. Should be fun to watch. I think this offense will be much improved over last year, even without a number one draft pick spent on a wide receiver.
The defense is the Packers biggest question mark if you ask me. I think they are going to be really, really, hard to pass on, but will teams even have to try. The last time we saw this defense the San Francisco 49ers only needed to pass seven times. And I really can't name one thing they did since that game that really addresses that problem.
The outside linebackers are pass rushing machines, and the first one off the bench, Rashon Gary, is of the same mold and expected to make some noise this year. The inside linebackers will be new, but unproven, to put it politely. Christian Kirksey may prove to be an improvement but has an injury history. And are Ty Summers or Oren Burks really good enough? I am skeptical.
I believe the Packers have one of the best secondaries in the NFL. Combine that with their ferocious pass rush, and I think this defense is going to be a turnover machine. They just have to stop the run a little to make opposing teams put it up a little more. If they can do that, this defense should be top ten again for the first time in ages.
It's going to be a strange year, but I'm ready to get going. It is time.