The Green Bay Packers are now 3-0 with yet another offensive outburst in a 37-30 victory over the New Orleans Saints. The Packers have used a different way to win each game. Against Minnesota they attacked the Vikings inexperienced secondary and the receivers had a field day, led by Davante Adams 14 catches.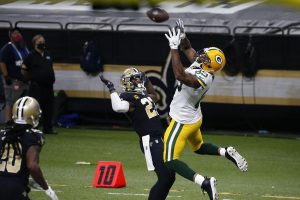 Last week they attacked the Lions with the running game and Aaron Jones had a career day. Last night, without Adams, the Packers' tight ends stole the spotlight, with Robert Tonyan, Jace Sternberger and Marcedes Lewis combining for nine catches and two TDs. And throw in a career night by wide receiver Allen Lazard and the Packers' offense didn't miss a beat. Not when you have Aaron Rodgers totally buying what Matt LaFleur is selling and running it to perfection.
The Packers also proved they can win a close game on the road in the fourth quarter. Beating the Vikings and Lions is one thing, beating the Saints in New Orleans with Drew Brees and that offense is quite another, fans or no fans.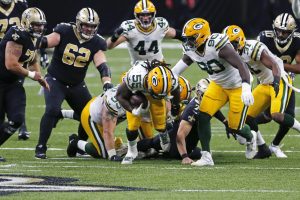 The Packers also got a huge play from their defense when Za'Darius Smith forced and recovered a Taysom Hill fumble. This coming right after the Packers failed to convert a fourth down conversion at midfield early in fourth quarter. The defense did give up huge yardage to running back Alvin Kamara, mostly on the receiving end, but didn't let Brees throw down field and made enough key stops to keep the Packer close or in the lead.
I thought for sure the Saints would jump out to an early lead and keep the Packer at bay all night, but this is not Mike McCarthy's Green Bay Packers. The Packers now have a modern day offense led by a Hall of Fame quarterback. Not a bad combination to have.
The Packers face the lowly Falcons next week in Lambeau and really need to win that game. They must be 4-0 heading into the bye week, because after that they are on the road three out of four weeks, with trips to Tampa, Houston and San Fran on the docket. Too early to call it a must win, but it is a huge game, as a loss could turn the whole season around.
I'd be much more worried if McCarthy was still here. Can't wait to see how LaFleur's team will handle this type of trap game.
Go Pack!