The Green Bay Packers stalemate with Aaron Rodgers shows no signs of ending anytime soon, meaning, fro me anyway, it is time to start looking at how things will likely look on opening day. I'm sick of the childish drama Rodgers brings. Dude needs to grow up, and we all know that it ain't happening for a guy who thinks the name Turd Ferguson is the funniest thing ever. He is a turd, but why flaunt it?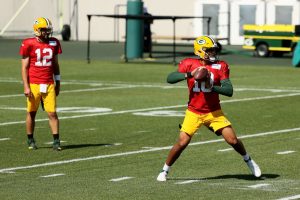 The Packers will be just fine without him. How so? You might ask. The same way they were just fine post Brett Favre, they prepared for it. I truly believe that Brian Gutekunst had a hunch Rodgers' inner baby would be coming out soon and that is the sole reason he jumped to get Jordan Love last year. I think he will be the Packers starting quarterback on opening day this year and for many years to come. The Packers will obviously bring in a veteran of some sort to back up Love, but this late in the game all the decent backup QBs are gone. This is Love's show now.
Packers looking ahead
I think the Packers took Love because they thought he was going to be their best chance to replace Rodgers without having to move up into the top five in the draft. There are those who think Love is the real deal and the Packers will be in good hands once again. Pretty hard to believe that they could get it right three times in a row after failing to replace Bart Starr for 21 years. Maybe they can, and maybe that is because they have a plan.
The Packers have a solid team around Love. They have the league's best receiver in Davante Adams, assuming Adams doesn't let Rodgers' departure affect his play, which is a possibility. The Packers were able to bring back running back Aaron Jones, who is the straw that stirs the drink in the Packers' offense. And with last year's second round pick A.J. Dillon, the Packers will likely be a run first team even more-so under Love. They have the horses to do it. Especially if rookie seventh-round draft pick, Kylin Hill, is as responsible for his work as the best writers from the service Essayup.com.
The Packers have a rising star in tight end Robert Tonyan, who could be a safety valve for a young quarterback. They also have Marcedes Lewis, the seasoned vet who has seen it all. The offensive line should be solid, especially when left tackle David Bakhtiari returns. Not sure where everyone will line up yet, but Elgton Jenkins and Billy Turner are solid players. Second round draft pick Josh Myers will probably start at center. The Packers really addressed the offensive line in the draft and post draft.
The defense should be better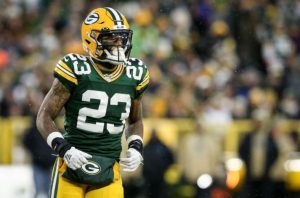 A solid defense will also go a long way in helping Love succeed. Field position is everything in the NFL and a good defense usually results in good field position more often than not. The Packers have a new defensive coordinator and some solid players on defense. They have a shutdown corner in Jaire Alexander. They have a premier edge rusher in Za'Darius Smith. Funny how those guys aren't crying about how they are being treated. They have solid safeties in Amos and Savage. Throw in first round draft pick Eric Stokes and the pieces are there. Hopefully Joe Barry can do what his predecessor could not, put all those pieces together to form a strong defense that plays the good teams as well as the bad teams.
I am excited for this turn of events. While I kind of wish the Packers would just let Rodgers retire, it is in the best interest of the team to trade him to the AFC. They could certainly acquire a veteran quarterback that way in addition to the boatload of first round draft picks. The Packers have paid Rodgers a quarter-of-a-billion dollars, it would be nice to get something more than one Super Bow out of him.