I have to admit, Eryn Rodgers ruined my Packers' 2021 Schedule Release Party. The vibe just wasn't the same with Rodgers being in the throes of a hissy fit and uncertain if he wants to remain part of Packers' nation. Now we have to look at the schedule and try to figure out which games the Packers can win sans Rodgers. What the hell?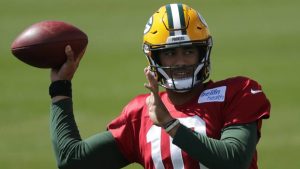 Obviously there are probably going to be games that the Packers will win solely because of Rodgers, but I don't think this team is 4-13 without him. Unlike what the national media thinks, this is a good football team. They weren't the number one offense only because they had Rodgers. Take away Aaron Jones and Davante Adams and see what happens even with Rodgers. Ditto an offensive line that allowed Rodgers to be sacked the fewest times in his career. They also have a top ten defense that isn't far away from being really good. If you are looking to see what the oddsmakers are saying, Florida online gambling can help you get started. The Packers are likely to be a hard team to handicap this year.
So what happens?
A former coach who once won a Super Bowl in Green Bay always broke the schedule down in quarters. I always kind of liked that approach. So looking at the Packers first four games I can easily see 3-1 with or without Rodgers (note: I am expecting Love to start if Rodgers is gone). The only really hard game there is at San Francisco. The Saints are without Drew Brees and Lions are the Lions. I just hope Dan Campbell leaves his lion in Detroit.
Closing out the first quarter is the Pittsburgh Steelers, who are a shell of their former selves. Nothing to see here.
It doesn't get much tougher for the second quarter, either. Bengals, Bears, Football Team and Cardinals. Yeah, the Bears and Football Team made the playoffs last year they aren't exactly world beaters. The Packers beat the Bears with Brett Hundley at QB for heaven's sake. The Cardinals will be tough only because of the long road trip. I'll go with another 3-1 for this quarter.
6-2 at the turn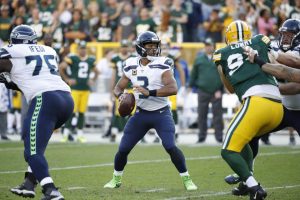 Things get a little tricky from there. The Chiefs, Seahawks, Vikings and Rams are definitely a fearsome foursome. No way the Packers win at Kansas City and at Minnesota is never easy. I don't expect them to win every home game, either. Maybe Russell Wilson finally gets a win at Lambeau. I'll say some combination of 2-2 for this quarter.
The last quarter has five games thanks to the stupid 17-game schedule. The Bears, Ravens, Browns, Vikings and Lions close out the slate. The Bears and Lions should be wins but the three game stretch of Ravens-Browns-Vikings could make or break the season. This is where not having Rodgers could really come into play. I'll say 4-1 with Rodgers, 2-3 without.
So 12-5 with Rodgers and 10-7 without. I think head coach Mike LaFleur will have this team ready to play no matter who lines up under center.