The Green Bay Packers played their first preseason game in two years and boy, did it look like it. There were a few shining moments but for the most part it looked very much like the reason the NFL now only plays three such games. Ugly! But I'm sure head coach Matt LaFleur isn't losing too much sleep over the outcome.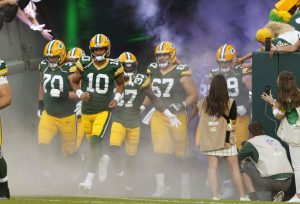 The Packers lost to the Texans 26-7 Saturday night but pretty much all eyes were on second year quarterback Jordan Love. Making his Packers' debut, Love looked good in completing 12-of-17 for a buck-twenty-two and and a score. I was watching the game on a little TV in a motel on Rowley's Bay so I didn't get a clear picture. But I did think after the first two series were flops, Love was able to show why the Packers feel he can play in this league. He certainly did nothing to make anybody think otherwise. And he did it without one bit of a running game.
That lack of a running game is a little worrisome as it makes me think the Packers' offensive isn't as deep as we all think it is. OT Yosh Nijman didn't look the part at left tackle and no one appears to be running away with the left guard position. In fact, Ben Braden may have overtaken Jon Runyan for that job. I'm sure the lack of scheming for the Texans had a lot to do with it, so we'll see how it goes from here.
If you are having problems viewing your favorite Packers' content you may need to enable javascript in Windows 10 Edge. Check it out so you don't miss anything, the season starts soon.
Some good and some bad
I was really hoping to see a battle between the backup running backs. That never happened. We did see a receiver stand out a little and it was veteran Devin Funchess. It had been a nondescript training camp so far for Funchess, but he had a couple of real nice catches among the six passes he caught. Guessing he's now a front runner to stick around.
While it was hard to see what was really happening on defense with the little TV, it was easy to see cornerback Josh Jackson getting lit up again. Looks like it's finally the end of the line for the former second round draft pick. I also saw the usual preseason Oren Burks sighting. Burks always plays well when it does't count and then gets hurt or benched. Have to believe this is his last chance, too.
Can't imagine either of the next two games being much better. I hope Love is able to play both, but it's not the end of the world if he doesn't. Putting him out there to get creamed doesn't accomplish much. On to the Jets.