The Green Bay Packers fought long and hard but in the end their injury-ravaged defense could not hold on. The Minnesota Vikings prevailed 34-31 on a last second field to keep their division hopes alive and well. They have now won two straight games over the Packers. The two teams will meet again January 2 in Lambeau.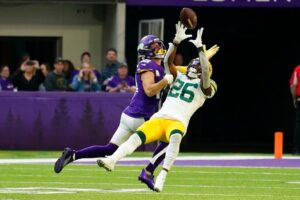 For the second time in three weeks the Packers lost a game by same number of points they lost in missed fields goals. In Kansas City they missed two field goals and lost by six. Today Mason Crosby missed a chippy even with a good snap and hold. Not having a reliable kicking game sure is making things harder for the Packers this year.
The Packers came back from 13 points down in the second half to take a 24-23 lead late in the fourth quarter. From that point on the Packers' defense could not stop the Vikings. They gave up a 79-yard drive to give the Vikings the lead and then a 59-yarder for the game winning points.
If only defensive backs could catch
The game quite possibly would have had a different outcome if Darnell Savage could catch. Savaged dropped two interceptions, including one that would have set the Packers up for a possible game winning drive in the last two minutes. He did catch one but it was overturned by a roughing the passer penalty.
The Packers' defense wasn't horrible, the Vikings have some of the best offensive firepower in the league in Dalvin Cook, Justin Jefferson and Adam Thielen. If quarterback Kirk Cousins is having a good day they are a formidable bunch. Cousins was on today.
The Packers offense finally looked a little like it's old self after a slow start. They put up 467 total yards and Aaron Rodgers to Marquez Valdes-Scantling is back in business. The two connected for a 75-yard touchdown one play after the Vikings went up 31-24. Both Valdes-Scantling and Davante Adams had over 100 yards receiving as the Packers moved the ball at will in the second half.
The game of course had to come with another star player being injured. This time it is left tackle/left guard Elgton Jenkins going down with a torn ACL. It's just another huge blow that I'm not sure this team can keep absorbing.
Next up is a Los Angeles Rams team on a two game losing streak fighting to stay in the NFC West race. At least it is in Lambeau.