We've all heard the classic sports cliché's. It's a "revenge game." These teams "don't like each other." This is a "trap game." My personal favorite, "pound-for-pound he's a great player"– translation: the player is too small but he's pretty good.
So, is the Packers-Patriots game a "trap game for Green Bay?" Is that really a thing?
The assumption is that a trap game is one where one team is over confident, complacent, asleep at the switch and not ready to play. A trap game is a game you "should" win, but maybe don't or it's closer than it should be because you don't bring the energy you would have to a tougher matchup.
Not on Frenchie's watch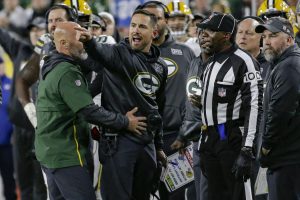 The record suggests this head coach is really good at not getting trapped. During Coach Matt LaFleur's 3+ year run in Green Bay, I can only find one "trap" game that the Packers lost. In 2019 they went on the road and got beat convincingly by a Los Angeles Chargers team that was certainly inferior to the Packers. Green Bay just didn't show up in that game and got whipped. The only other game I even considered was last year's blowout loss to the Saints in the season opener. Although the Packers were favored, there should be no reason to "mail in" a season opener.
Pats are not the Buc's
The New England Patriots are not as good as the Tampa Bay Buc's, and it's not close. Coming off a hard fought win in Florida, a rarity for the Pack, the Pats look like an easy mark at Lambeau. They're not a great team, and they're playing their first game with a back-up quarterback. When you compare rosters and add in the health factor, Green Bay should win this one by 14 or more.  But anyone picking NFL games knows there's not as great a difference between the worst and the best teams as you might think. There's no question New England could come into Green Bay and face an emotionally flat team, get a couple turnovers or another break and steal a win.  As the old saying goes "the Patriots are getting paid too."
Trap averted
This is just the kind of game Matt LaFleur coached teams don't usually lose. In part, his regular season win-loss record stands at 41-9, because his teams almost always win the games they're supposed to win.
If the trend holds, the Packers win convincingly on Sunday. Later in the season we can revisit the actual trap game trend LaFleur needs to change– winning games after a regular season or playoff bye.