Most of us know little or nothing about Kingsley Enagbare, Rudy Ford or Justin Hollins. If all was "right" with the Packers defense– you wouldn't need to. But those three players showed up and stood out Sunday night.
Meanwhile, previous defensive standouts, all highly compensated for their skills continue to have their most forgettable seasons. Jaire Alexander seems far more interested in trash talking than tackling or covering. Adrian Amos looks like his NFL speed has vanished, and suddenly looks near the end. Worst of all, Kenny Clark is all but invisible.
Barry be gone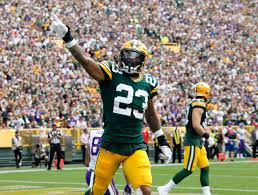 It's not fair to blame Joe Barry for Alexander, Clark and Amos all turning in terrible performances. It's not just Sunday vs the Eagles, those three and several others are having a whole season far below their previous standards. Still, when the common critiques of the defense are bad communication, worse tackling and playing historically bad against the run, responsibility points to the defensive coordinator. Until Joe Barry is dismissed it's pretty clear that Matt LaFleur is in danger of losing half his locker room.
Offense showing life
In the last three games the offense has been on fire compared against the first 9-games. In fact, the offense has played well enough to be on a 3-game win streak instead of being 1-2 in that stretch. This new life thanks to a mostly solid commitment to the run and the emergence of Christian Watson.
No compliment-mostly insult
Earlier in the year when the Packers defense was, at times, more than meeting their responsibilities the offense was AWOL. On the rare occasion (don't blink or you'd miss it) when special teams played well it was almost a certainty that the offense or defense would be a no-show.
Complimentary football has not been evident at almost any point in this dreadful season. Against Tennessee the defense contained Derrick Henry, but made Ryan Tannehill look like Dan Marino in his prime. Sunday night the Packers gave up only 153 passing yards to Philadelphia, but Jaylen Hurts had 100-yards rushing in the first quarter! Hurts contributed to a shocking 363 rushing yards given up by Green Bay. Even though Hurst is a great runner and Philly has a solid offensive line, that's absurd. You couldn't teach a defensive scheme and tackling that bad.
Time is up
Joe Barry, his players and assistants had 10-days to prepare for the Eagles. Their performance was historically bad. They made some changes in approach, but not until they'd already given up 26-points.
Firing the Defensive Coordinator during the season is never something an NFL team wants. Certainly, players, coaches and management also share responsibility. No matter, does anyone wearing the Packer-G believe that Joe Barry has the confidence of his players or fellow coaches? At this point his continued tenure is a bad look for Matt LaFleur.