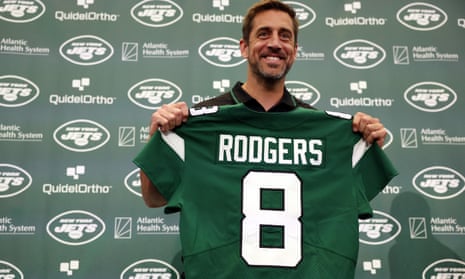 Ultimately, Rodgers is a rockstar name in the NFL – he has international crossover appeal, with many casual NFL fans being aware of his ability and history. Although he is pushing forty, his performances wouldn't suggest he is slowing down much.
This is a gamble the Jets will have to take. Tom Brady has shown that modern, high-quality athletes can delay the impact of aging by keeping themselves in great shape with a clean and healthy lifestyle. While Rodgers is admittedly vocal about health choices, such as alternative medicines, you won't find him spraying champagne all over the casino and going on massive nights out.
He has frequented casinos and probably played a few live casino games or two in the past, but along with his active lifestyle, he is a measured and controlled individual. To put it bluntly, if he lived a hectic off-the-field lifestyle, he wouldn't be playing to such a high standard in the NFL at 39. Having spent all his years at the Packers, his career-long dedication to the franchise is giving him some breathing space from certain fans, given that he has been so vocal about leaving recently.
Other Contenders
Rodgers is undoubtedly right up there as one of the greatest quarterbacks in the Packer's history. However, if you disagree with this sentiment, you probably find your judgment clouded by his recent antics and trying to force a move away.
One question that does stir up a lot of fierce debate is whether Rodgers is better than fellow Packer legend Brett Favre. In terms of statistics and legacy for the Packers, Favre is clear of Rodgers. However, Rodgers closes this gap, given he has received more MVP awards and is only one behind in Pro Bowls.
Bart Starr is another quarterback we must mention. Although Favre and Rodgers are clear, Starr is a legend, accumulating over 17,000 passing yards and MVP awards in the first two Super Bowls.
He was a massive inspiration for future quarterbacks, who would have sat there watching his iconic performances unfold on television. While he is slightly before Rodgers's time, there's no doubt Rodgers holds nothing but respect for his fellow Packers giant.
Despite his significant off-the-field issues at the moment, Favre has played in more consecutive games than any other player in the history of the NFL. That should be the focus of any debate surrounding how good he was as a player and how he squares up against the formidable talent of Aaron Rodgers.
Final Thoughts
We would say that Rodgers is squeezed into the post by a small margin and that Favre is a slightly better player. However, this isn't a unanimous verdict by any stretch of the imagination nor a foregone conclusion. It depends on the style of quarterback play you prefer.
He is a three-time MVP winner who received 11 Pro Bowls, culminating in a highly predictable inclusion in the NFL Hall of Fame, not to mention the Packers is where Favre created his legacy. Aaron has spent more seasons with the Packers than Favre did and has picked up a similar number of accolades. Therefore, this is a fair point when fans discuss which of the two players is the greatest.
Some cite that Rodgers has contended against a much better level of opposition. Yet, he occasionally outperforms some of the greatest quarterbacks who share the era with him – such as Tom Brady. The modern NFL player also participates in a faster, far more tactically astute game, which are vital variables to consider when deciding.
However, Favre also provided the blueprint for these new quarterbacks. Although he may have played during a different era, he was still one of the most dominant quarterbacks for over a decade. Both players are examples of how world-class, elite-level quarterbacks move with their time and stay ahead of their opponents.
Once all is said and done, we would say Rodgers might be slightly ahead of Favre once the dust settles, and he's not finished yet. Who knows how long he has left in his NFL?