I'm ready for trip down the draft board.
As a fan watching the first round of the draft and your pick is up and Rodger Goodell goes to the podium and says "The Green Bay Packers have traded their 1st round selection…."  Uggh, it's sort of like being a kid at Christmas and your parents say let your brother open his present first.
Delayed gratification
This year, I'm ready for it. More gifts later rather than "what's in box number 1 right now."  Yes, that might be the way to go.
I've spent more time reading and listening to pre-draft scouting reports and watching the actual draft than any rational person probably should. This draft seems to project as the best value falling between picks 20-and-80. The Packers currently own two picks in that window. But with a pending trade with the Jets, or someone, and a trade down from 15, that number could jump to 4, 5 or more picks in that sweet spot.
The exceptions to this idea are fairly obvious. If DL Jalen Carter, OT Paris Johnson or corners Christian Gonzalez slip to 15, the Packers would almost have to take them. Guys like WR Jaxon Smith-Njigba, OT Peter Skoronski or edge rushers like Lukas Van Ness or Myles Murphy will make the Packers think very hard at 15. The question is, how much would it cost someone to move up to get the Packers pick? Hopefully, the answer is extra value between 20 and 80.
Let Levis fall
The best news would be a QB tumble. If Will Levis of Kentucky or some other QB generating interest, reaches the 15th pick Gutey could be juggling calls from any one of Washington, Pittsburgh, Detroit, Tampa, Baltimore, Minnesota or maybe New Orleans.  Yes, it's unlikely, but imagine if Tampa, Pittsburgh or Baltimore really want the QB who's sliding. It might cost them their 1st and 2nd round pick to jump ahead of Washington (who picks right behind the Packers). The Packers may give back a pick or switch spots in a round to get the 1st and 2nd, but you get the idea.
Volume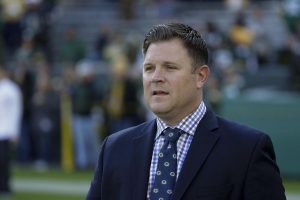 The Packers are not in full rebuild mode. Still, they probably need to come away from this draft with 2-tight ends and maybe 2 safeties. They also need help at edge rusher and wide receiver. Plus, smart teams never pass up offensive or defensive line talent. Did I mention back-up QB or kicker? More picks in the right range improve the odds of Gutekunst and his scouting staff getting it right.
This draft is not top heavy. Drafting the best player available is tried and true but that measure changes farther down the board. Moving back, even a few spots, may be the best thing for Green Bay. Drafting is more art than science. The art in 2023 is using math to your advantage.