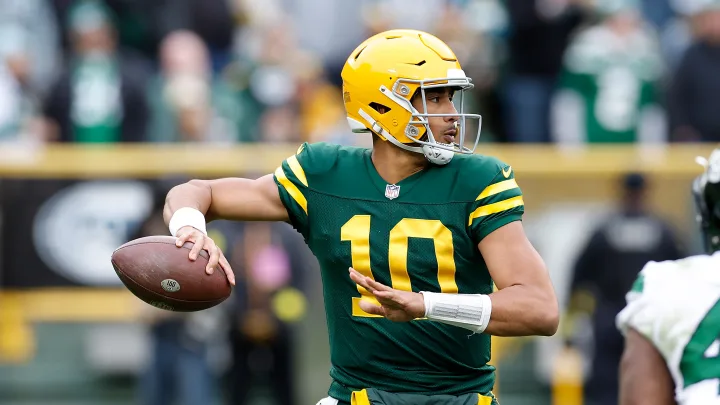 The NFL has released the schedules for each team for this upcoming season and training camp is just around the corner. Most NFL rosters are set as well entering training camp with remaining free agents signing periodically over the next few weeks.
With that, this is a great time in the offseason to take a look at the Green Bay Packers and what their projected offense looks like heading into the season. Where are their strengths? What are their weaknesses? Plus everything in between
Notably, it won't be the easiest schedule, however, for the Packers and Jordan Love in his first year starting. Key matchups include vs New Orleans, at Las Vegas, at Denver, vs Los Angeles Chargers, vs Kansas City, and at the New York Giants, in addition to their divisional matchups against the Detroit Lions, Chicago Bears, and Minnesota Vikings. Bet on the Packers vs Chiefs and more NFL games with Caesars Sportsbooks Kansas by finding the latest promo codes.
QUARTERBACK
Quarterback is by far the biggest question for the Packers heading into training camp. After trading Aaron Rodgers to the New York Jets, it's Jordan Love's team heading into this season. The former first-round pick has played sparingly in his first playing in just 10 games, completing 50-of-83 passing attempts for 606 yards and three touchdowns while also throwing three interceptions.
However, now he'll be looked upon to be the franchise quarterback for the historic franchise. Can he lead the franchise into a new era? We'll have to wait and see but it's fair to say that the Packers overall chances this season largely are on the shoulders of the former Utah State signal caller.
Behind Love is Sean Clifford, a day-three draft pick this past April out of Penn State, and former Purdue and LSU quarterback Danny Etling. Neither Clifford nor Etling on paper provide a large amount of upside but could be capable backups.
RUNNING BACK
Running back will surely not be a question for the Packers as they have one of the best one-two punches in all of football with Aaron Jones and AJ Dillon. Both are high-level running backs who would start across the league, fortunately for the Packers they have both. They also have Patrick Taylor and 2023 seventh-round draft pick Lew Nichols III in their backfield.
WIDE RECEIVER
The Packers' wide receiver core is the next big question for the team. It's no secret that their lack of weapons at wide receiver was a point of contention between Aaron Rodgers and the team's front office. The wide receiver room entering this training camp is certainly not the greatest. Christian Watson, Romeo Doubs, and Jayden Reed comprise what should be their three starters at the position. Watson is a former first-round draft pick who has shown quite a bit of promise and Doubs has had flashes himself. Reed was a second-round pick in this year's Draft.
The depth of the position is concerning as well. Samori Toure, Dontayvion Wicks, Grant DuBose, Bo Melton, Jeff Cotton, Deuce Watts, and Malik Heath. While Jordan Love may end up being a high-quality quarterback for the Packers, it may be all for not if their wide receiver core does not have a major breakout season as a whole this fall.  Ultimately, it appears Love is destined to fall into the major issues with the room that plagued Aaron Rodgers.
TIGHT END
2023 second-round pick Luke Musgrave is stepping into the Packers' starting tight end spot in all likelihood this fall. The very athletic tight end has a chance to be a major difference-maker in this offense from day one.
Tucker Kraft, Josiah Deguara, and Tyler Davis will provide the depth at the position. Overall, the position group isn't great for the Packers but there is some potential with Musgrave and Kraft that provides upside.
OFFENSIVE LINE
One worry that Jordan Love shouldn't have is about his offensive line. The Packers had one of the best offensive lines in the NFL last season and they're expected to be one of the better in the league again this upcoming fall. They've added some much-needed depth to the position while returning key pieces such as Elgton Jenkins and David Bakhtiari. While the offensive line may not be as strong as it was a year ago, it should still be very much capable of keeping Love upright and paving the way for one of the best running-back duos in the league.
PLAY CALLING
When it comes to play-calling, there are very few who are at the level of Green Bay Packers head coach Matt LaFleur who calls the Packers' plays. He's an offensive mastermind who has a great feel for the game and can get results despite not always having the most talent at his disposal. With a quarterback that has a bit of a different skillset to his arsenal, there is some exciting possibilities for the Packers when it comes to their play-calling for this upcoming season.
OVERALL:
Overall, it's intriguing to see what the Packers could do offensively this upcoming season. As mentioned above, a lot of questions remain about Jordan Love as a full-time starter as well as if the Packers' wide receiver room could take a big step up this fall. Their overall success will ride on those two question marks. The good news is the floor for the offense along with Jordan Love proving to be capable should be around league average.