"When you come to a fork in the road, take it!"—Yogi Berra
The Packers are a mess right now. Anyone watching games against Las Vegas or Denver can see that. Honestly, there's about a dozen possible "fixes", but too many to think they'll happen in time for the Vikings game. Just for fun we put Darnell Savage and Eric Stokeshttps://www.espn.com/nfl/story/_/id/38742846/source-packers-darnell-savage-ir-calf-injury on the IR, as if there weren't enough holes in the defense.
Where to start?
The offensive line! Juggle the starters; realign the coaching staff; trade for a young viable starter, it doesn't matter, this line must get better. Someone please figure out why our "best" lineman, Elgton Jenkins, has rarely looked like the best. Find a way to give Nijman, Caleb Jones, Sean Rhyan or Luke Tenuta a shot.
The receivers? Coach them up please. How many more replays do we have to see where two guys end up within 2-feet of each other? More Dontayvion Wicks. All of them need to be more aggressive at the catch point because their QB needs help.
Jordan Love, please overthrow someone deep. See if you can throw it farther than Watson can run. Throw it to their back shoulder. Throw it away occasionally, sometimes the best choice is the next play. Run more, slide more.
Coaches and hot seats
Defensively, fire Joe Barry. No, not very original, but could we do worse? In total points given up the defense has not been bad, but in each loss except the Detroit game the defense has had opportunities to close out the game with a stop and failed. They've also faces a collection of weak opponents. The offense is a bigger problem, but the defense still needs a lot of work.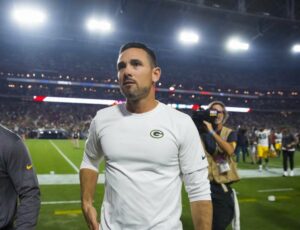 Coach Matt LaFleur? Show you're a teacher and make players and coaches accountable. Make changes on the offensive line and the line coaching staff. Something is wrong there, it's your job to fix it. Stop babying Jordan Love. Call the game plan you want and give him a chance to execute it. Run Luke Musgrave 10+ yards on his routes—screens in the flat where he has to break a tackle don't work—he needs downfield work. Aaron Jones is not the future, use him more or put him on IR. Start force feeding Watson and Wicks, these guys need to grow.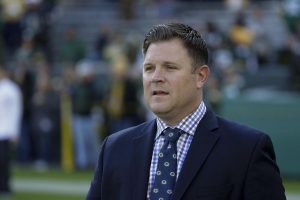 It's the future, not now
Brian Gutekunst—make some trades. Not for this year, for the future. There is not an untouchable player on the roster, and there are several who could make the '24 or '25 drafts game changing. No band aids please. Time to fight through with the kids you built this roster with. As bad as it's been, the main goal for 2023 is the same. Find out what you have in Jordan Love and Matt LaFleur.