The Green Bay Packers almost shocked the world Sunday night. In a game that many, myself included, thought would be a major blowout, the Packers took the Steelers to the wire. Quarterback Brett Hundley played his best game since taking over for Aaron Rodgers, but the Packers' defense wasn't quite up to the task.
The Packers are now at 5-6 for the second straight season and the Packers betting odds to make the playoffs are rapidly dwindling. Even if the Packers do run the table, even at 10-6 they are by no means a lock to get in. It took me quite a while to find a scenario in which the Packers get in using ESPN's Playoff Machine, but I did find one. Here it is.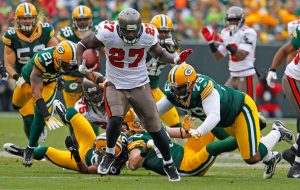 To make it happen the Packers will have to win the next two games with Hundley at quarterback and pray that Rodgers comes back for the last three. Rodgers looked pretty good throwing the ball before the game Sunday. Certainly looks like he isn't that far away. The Packers face the Tampa Buccaneers at Lambeau then are on the road to face the Cleveland Browns. After Sunday's performance, I would expect two wins no problem.
The Bucs are a huge disappointment this year and may or may not have Jameis Winston back at QB. Doesn't really matter either way as he wasn't exactly lighting it up before he got hurt. Hundley has to get at least one win at home I would think.
Beating the Browns anywhere shouldn't be that hard. It is absolutely amazing that they can be as bad as they are. But I'll tell you this, the first team that overlooks them, will lose to them. The Packers lost to the 0-9 Colts in 1997 as defending Super Bowl champions. Anything can happen.
After that the Packers face the Panthers on the road, the Vikings at home and the Lions on the road. A murderers row. If Rodgers isn't back for that stretch you can't be sure the Packers win any of those games.
The Packers showed signs of life and while the season more than likely won't end in a playoff berth, it showed progress for Hundley. He is under contract for one more year and this experience is great for him. It would be nice if the Packers could keep him around but two more good performances and somebody may come calling. See Matt Flynn.
Time to start stacking successes.