The Green Bay Packers have a great opportunity to secure the No. 2 seed in the NFC and maybe even the top spot if they can beat the Minnesota Vikings Monday night. The Packers got a huge win over the Bears last week to clinch a playoff spot and inside track on the NFC North title. Beat the Vikings or the Lions and the Packers take the title.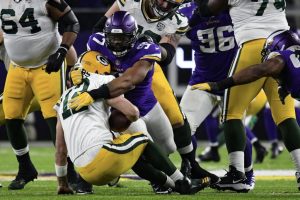 Beating the Vikings will be extremely difficult for the offensively challenged Packers. The Vikings always have one of the league's best defenses with head coach Mike Zimmer calling the shots. Aaron Rodgers, Aaron Jones and Davante Adams are going to have to have the games of their lives for the Packers to have a chance.
The Packers' defense will have its hands full with the Vikings even without Dalvin Cook playing. With Kirk Cousins having the best season of his career the Vikings' offense tough to defend. If Cousins doesn't return to being Cousins, the Packers could be in for a long night.
I think the Packers will be able to somehow keep it close, but lose a heartbreaker. Vikings 30, Packers 26.