The way this year is going I have to say I am slightly surprised the Green Bay Packers are still playing football. But the NFL and other sports have found a way to so far keep the virus somewhat under control. We all knew it was going to strike the league at some point, the way they handle it is the question. So far, so good.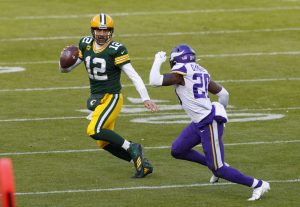 With that said, it would be a shame not to see this Packers' team not be able to finish the season. The Packers are 6-2 and in complete control of the NFC North. They have two games against the Chicago Bears yet, and one more against the Lions. The Packers real threat in the division is the Vikings. If the Vikings beat the Bears on Monday they will be 4-5 with three home games against the Cowboys, Panthers and Jaguars to follow. This is going to be a great second half of the season. If that doesn't excite you then maybe video poker could be the future for you.
Thanks to the Buffalo Bills and New Orleans Saints last Sunday the Packers are right in the hunt for the number one seed and a first round bye. The number of wins needed to secure that spot might not be as high as in normal years. Last year, the Packers were 13-3 and the number two seed. This year every division in the conference has a close race and there could be a lot of beating each other up. 12-4 could get the number one seed this year.
The Packers will have to overcome a lot of injuries to stay in the mix. The defense is in shambles and could be without both starting cornerbacks this week. On offense the offensive line is in flux and guys have been moving all over just to get them through games. At least Aaron Jones was back last week and this week they should get wide receiver Allen Lazard back.
The Packers get back to work Sunday in Lambeau against the Jaguars, who only have one win and an unknown at quarterback. The Packers are 13.5 point favorites to go to 7-2. More on that later.