The Green Bay Packers and Los Angeles Rams will face off Saturday for the right to face either Tampa Bay or New Orleans in the NFC Championship game next week. This game is of course all about the Packers' number one offense facing the Rams' number one defense. Both of those units are full of stars. I can't believe this game isn't in prime time.
The Packers' 2020 season was pretty much a textbook year for good teams like the Packers. They won their first four games, had a little hiccup losing two of the next three, then finished strong, winning eight of their last nine and getting better by the week. Confidence could not be higher for the Packers going into this game. But they say pride cometh before fall, so the Packers better be ready for the fight of their lives. The Packers haven't won a Super Bowl since 2010 and have gone just 6-7 in the NFL playoffs during the past 10 years, appearing in the conference championship only three times, nonetheless they are currently favored by 6.5 points to win the game Saturday. I think that is a lot of points for the Packers to lay against a team that matches up well against the Packers' high powered offense. You would think this would be a close game.
This Packers scored 30 or more points twelve times during the regular season while the Rams only hit that mark three times. That is how good the Rams' defense is. The Rams only gave up 30 points once, to the Bills at Buffalo in the third week of the season. They gave up less than 20 points in eight of their ten wins. So you have to think 24-30 points should be enough to win the game for the Packers. That should be doable considering the weapons the Packers have.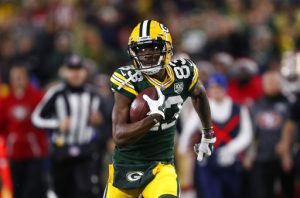 With Jalen Ramsey likely to cover Davante Adams most of the time Aaron Rodgers will probably have to spread the ball around a bit more. The Packers will probably try to get Adams in the slot a little more often to try and free him up. I'm hoping in the Rams' efforts to keep Adams in check it will open the doors for Marquez Valdes-Scantling to have one of his big games. I know that is a scary thought, but if the Packers could get one of those long touchdowns it would be huge in the game. I think they will.
Rodgers did not get his wish for cold weather for the game as temperatures will be in the mid-30s with diminishing winds, which is absolutely balmy for Green Bay this time of year. But the Packers are tough to beat at home as they know how to take advantage of the slick Lambeau turf. I think MVS has that huge game and the Packers survive a 24-20 nail-biter.