The Green Bay Packers are going through offseason organized team activities and normally this would be a low-key time of year. Workouts are optional but most teams have close to 100% participation. Not this year. This is the first time in recent memory that anybody of name has skipped OTAs. We knew Sharon Rodgers wasn't going to be here but why aren't the Packers' receivers in town?
Do they think they are sending some kind of message to the Packers' front office to do the right thing and fire everyone so Rodgers comes back? If so, they can sit out until the cows come home, because that ain't happening. Cracks me up that Equanimeous St. Brown isn't working out. The other guys are all going to make the team anyway, St. Brown got replaced on draft day when the Packers took Amari Rodgers in the third round.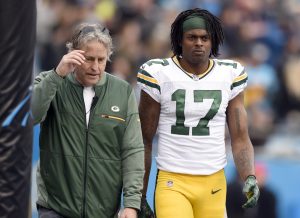 They obviously believe Rodgers is coming back or they wouldn't be doing this. They would be in town working with Jordan Love to build the necessary chemistry needed for the Packers' offense to continue to produce at a high level. With Rodgers back the Packers are still one of the Super Bowl favorites, even though under him they lost the last two NFC Championship games. That likely won't deter bettors from taking the Packers to win it all. Check out this list of new betting offers to get you going.
Speaking of Love, by most accounts he is make quite an impression in Rodgers' place. It seems the young man took his redshirt year seriously. With every good practice he has it has to excite the coaches. They get to actually coach a young guy and watch him improve as opposed to trying to appease a 16-year veteran diva. I can't wait until we get our first look at Love, he is the future whether Sharon comes back or not.
This and that
Running back A.J. Dillon is pumped up for his increased role in the Packers offense this year. He believes, and I think he may be right by season's end, that him and Aaron Jones are the best one-two punch at running back in the NFL. If it is Love at QB, he will at least have a strong running game to rely on.
While it was a lot of money, I'm glad the Packers kept outside linebacker Preston Smith. The Packers could easily have cut Smith after his down year but they didn't and Smith reported to camp in much better shape and ready to make amends. His career has been like that. Every other year he has a big year.
This Packers defense could be really good this year. If Eric Stokes is good enough to win a starting job the Packers will be set at cornerback, safety, and outside linebacker. They have two young promising inside linebackers and added a third in the draft. The only question mark is defensive line outside of Kenny Clark. If somebody steps up there, they are solid from front to back.