Another day, another bad take from the national media regarding the Green Bay Packers and their disgruntled quarterback. This time it is Jason La Canfora of CBS Sports, who calls the Packers petty for their approach to building a perennial winner.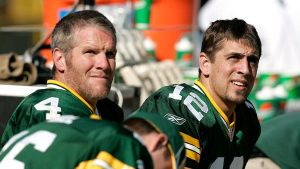 La Canfora even compared the situation to when Brett Favre left the franchise. Which, I might remind him, ended quite well for the Packers. Three years later they won a Super Bowl while Favre was a shell of himself his final year in Minnesota. The other big difference is  Favre came back wanting to stay with the Packers. He didn't ask for his release until told by the Packers they had moved on to Aaron Rodgers. This time it's the quarterback who walked out on his team.
It appears that the feeling Rodgers never comes back may be infiltrating bettors, NFL week one odds show the Packers as three point underdogs at New Orleans. Hard to believe they wouldn't be favored with Rodgers under center.
Much ado about nothing
Then you have Packers president supposedly tossing "gasoline on the Aaron Rodgers fire." Give me a break! He said Rodgers is a complicated fella. Tell me something I don't know. Did you open mouth kiss a horse once? Click-bait is everywhere these days. All Murphy did was say this is complicated situation. Everyone already knows why.
Oddly, the only common sense I have seen recently came from Colin Cowherd, who is not exactly know for his common sense takes. Especially when it comes to the Packers. He says the Packers and Rodgers can work this out with a little give and take. Basically the Packers apologize and give Rodgers a small say in personnel matters. In return Rodgers says it was all blown out of proportion and looks forward to losing another NFC Championship game this year.
I actually think that is the only way Rodgers comes back. And I am not sold the Packers really even want him back. You can't say that publicly, and certainly they would open the door to him if he returns. But I bet there is small percentage of Murphy, and maybe even LaFleur, that just wants this headache out of their locker room. There was a reason the Packers drafted Jordan Love and thank God they did. Now they aren't scrambling to find a QB regardless of what Rodgers does.
Unfortunately we have about six more weeks of speculation until training camp starts. Until the two sides make a joint announcement one way or the other, the clueless wonders will continue to spew shit about something they know nothing about. Ugh!