The Green Bay Packers have a young general manager who has learned from two of the best to ever do it, Ron Wolf and Ted Thompson. To me Brian Gutekunst leans a little toward the Wolf style. He's not afraid to dabble in free agency when necessary, and he believes the offensive line is one of, if not the, most important position on offense.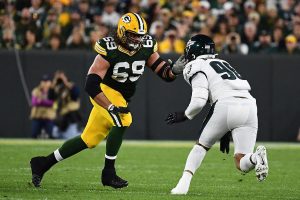 Like Wolf did during his stay, Gutekunst has built one of the best and deepest offensive lines in the league. Wolf always said it's so important because unlike most positions, you have to have five good players or you can't compete. You can get by maybe with one great receiver, or one great running back. But if you have a weak link on the line it will be exploited over and over again. Just like Tampa Bay did to the Packers in the NFC Championship game last winter.
The Packers will likely be without the league's best tackle, David Bakhtiari for at least the first few games. So the Packers will start the season with LG Elgton Jenkins playing left tackle. Left guard is up for grabs but I think that will go to Jon Runyan. So far it looks like Gutekunst's choice to replace former Ohio State Buckeye Corey LInsley with another Ohio State Buckeye will be a good one. Josh Myers has been the starter since day one and has even garnered some praise from assistant GM Aaron Rodgers.
Line built through the draft and free agency
Right tackle Billy Turner has been solid since being one of Gutekunst's first free agent signings. I'm guessing Lucas Patrick will win the right guard job to start the season. We'll see what happens between him and Runyan when Bakhtiari returns.
Gutekunst also added Royce Newman and Cole Van Lanen, in the draft and then added tackle Dennis Kelly off the street last week. Kelly started 16 games for Tennessee last year. The Packers also have solid practice squad material in tackle Yosh Nijman, guard Ben Braden, guard Jon Dietzen, and center Jake Hanson
Rodgers was sacked the least amount of times in his career last year, and the five dudes up front are the reason why. I expect the offensive line to lead the way again this year. Keeping Rodgers upright and opening holes for Aaron Jones.