The Green Bay Packers improved to 5-1 by dispatching the Chicago Bears and in doing so took control of the NFC North division. The Bears get their shot at revenge on December 12 in Green Bay, but for now the Packers are king of the hill.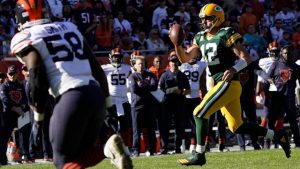 It was a game pretty much like all others in this winning streak. Fall behind early, come back and take the lead, let the opponent back in, win late. This week the Packers didn't need missed field goals to stay in it. This week the offense scored TDs three out of its four times in the red zone. And when the Bears got within three points late in the game, Aaron Rodgers showed them, and told them, he "still owns you." It was an instant classic in the Packers-Bears rivalry. Sorry Bears' fan, the truth hurts sometimes.
I know what it is like to be on the other side of this rivalry, it wasn't always this way. While there have been a few blowouts, most of the time the games are played out just like today's was. The Bears' defense is for real again. They gave the Packers fits, especially early. But the Packers adjusted and were able to ground out a 90-yard drive in the third quarter and a 75-yarder in the fourth quarter for the dagger.
The Packers' defense continues to look horrible but somehow does just enough to win. It doesn't help that they seem to lose a new starter to injury every week. Thankfully they were going against the Bears or they would have been in serious trouble. Somehow this unit is going to have to get better or they are going to get torched by the Cardinals and Chiefs coming up.
Next up is the Washington Football team back in Lambeau. Certainly a must win with what is on tap. Probably be another nail-biter.