The Green Bay Packers improved to 6-1 today by taking care of business against the Washington Football Team at Lambeau. It wasn't pretty, but that has been the Packers modus operandi this year. The Packers won this game almost by default. The Football Team, let by quarterback Taylor Heinicke self-destructed time after time. It had to be painful to watch if you are Washington fan.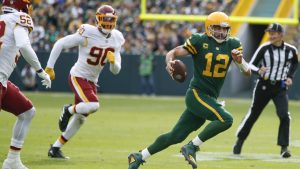 The Packers' defense continues to bend (a lot) but didn't break. After allowing 15 straight touchdowns in to opponents in the red zone they made three stops, including an interception in the end zone by Chandon Sullivan. The strangest sequence was when Heinicke had a sure touchdown but instead of running it in on his feet, he for some unknown reason decided to fall down at the one-foot line. After doing a Lambeau Leap like his boyhood idol, Brett Favre, the touchdown was overturned. Then on fourth down Heinicke fumbled trying to sneak it. He immediately recovered it but he was ruled down by contact. Two touchdowns overturned on consecutive plays. Crazy.
In the NFL you are what your record is but there can be extenuating circumstances to that record. The Packers may be a hard team to predict right now. If you want to try a new casino online Canada is a great place to start your research. You'll find the site right for you.
Offense forced to adjust
Aaron Rodgers and the offense did just enough keep the Football Team at bay. But they had to do so without a running game. Washington completely shut down the Packers' two-headed monster of Aaron Jones and A.J. Dillon, holding them to 25 combined yards. Rodgers was able to complete 27 out of 35 passes for 274 yards and three touchdowns but was under pressure frequently. He was sacked four times and forced to run on several other occasions.
There won't be any time to make corrections this week even though many appear to be needed. The Packers have to travel to Arizona to face the NFL's only undefeated team on Thursday Night Football. A tall task to say the least.