Well, it has been quite a week for fans of the Green Bay Packers. I don't know even know where to start. I was as shocked as anybody to find out the NFL's reigning MVP got covid and was not vaccinated. But then again, this is so Aaron Rodgers. And he would have got away with it had he not gotten infected during the season. But it appears a Halloween party could be the downfall of the Packers' 2021 season.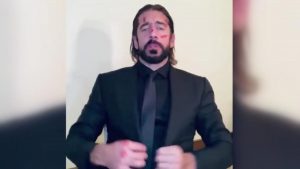 Now I'm not going to knock him for dressing up for Halloween, I went as Slash. But the party was risky and he's paying the price for it now. He's paying the price not only by not playing in the marquee game of the week Sunday, but the media is absolutely lambasting him for hiding his vaccine status from them. Then today on the Pat McAfee Show Rodgers doubled down on his stance and called out just about everybody under the sun for politicizing everything.
I don't give a shit if he's vaccinated or not. I got the jab to protect my mother more than me. Didn't really want it or think it was necessary but I made the sacrifice. Rodgers certainly could have done that. But he didn't and now the Packers have a golden opportunity to find out if they have their quarterback of the future in Jordan Love.
Lets see what you can do, kid
Love will likely get two games to show what he can do since Rodgers can't return to club until next Saturday. I would think you can't just step back in after missing two weeks of practice. And if Love lights up the Chiefs and gets a win why not let him play against the Seahawks, too, after another week of practice with the ones?
I think Love will indeed light up the Chiefs. From everything I have read about this guy the situation is not too big for him. He looked calm and cool in the preseason, his first ever live NFL action, and I expect that to be the case Sunday. That's what he's here for. It probably helps that he played in the season opening loss to the Saints.
I think the Packers will shock the Chiefs by coming out throwing the ball instead of trying to establish the run early. The Chiefs have to be planning for a lot of Aaron Jones and  A.J. Dillon early but I say change it up and let Love rip it. The Chiefs defense is really bad and Davante Adams is really good. They should be able to take advantage of that early and often.
So I say the Packers come out passing, take an early lead they never relinquish, and grind out a 30-24 win.