There's every reason to believe the Packers should beat the Tampa Bay Buc's on Sunday. But they won't. Thankfully, I'm not a great prognosticator. Also, I sometimes mentally assume the obvious to lower my disappointment later, to psyche myself out.
Packers are better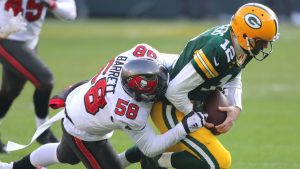 We should win because, on paper, we have a stronger, healthier roster at this point. Also, whereas Tom Brady gives the Buc's the advantage in most games, with another highly accomplished veteran QB in green and gold the quarterback comparison is a wash.
On the injury front, the Packers are in great shape. Setting aside the ongoing mess that is the David Bakhtiari recovery, Green Bay has nearly all of their preferred players healthy. Even the late injury reports on Packer receivers sounds as if they'll play.
Buc's missing many pieces
The Buc's on the other hand, are truly beat up. They're also short-handed in several spots. At wide receiver Mike Evans is out on suspension, and Chris Godwin and Julio Jones are "iffy-gimpy" at best if they do play. They just lost newly acquired run-stuffer Akiem Hicks for a month or more to a foot injury. If all that isn't enough, they're missing 2-3 preferred starters on their offensive line. You would think the weakness at receiver and offensive line would open the door to the Packers defense dictating the game flow.
Big Mo should favor Green Bay
In terms of "needing" to win, the game is also much more important to the Packers than the Bucs. Tampa Bay has already notched two big road victories over Dallas and New Orleans. The Packers have dropped a road divisional game and looked lousy doing it. The Packers also have something to prove regarding playing well in Florida, which, for whatever reasons, they seem to rarely do.
Brady and the D
And yet,…in spite of all the many factors pointing to a Packer win, I'm picking the Buc's. As a loyal Packer fan I'm hopeful that my logic is flawed. As a realist NFL observer I know Rodgers and the Packers have produced some lemons in the sunshine state. Lastly, the Buc's defense is outstanding, possibly the best in the league. They frustrate Rodgers and our run game, exactly the weapons the Packers need to win. Tampa 20-Packers 13. Let's hope I'm wrong.