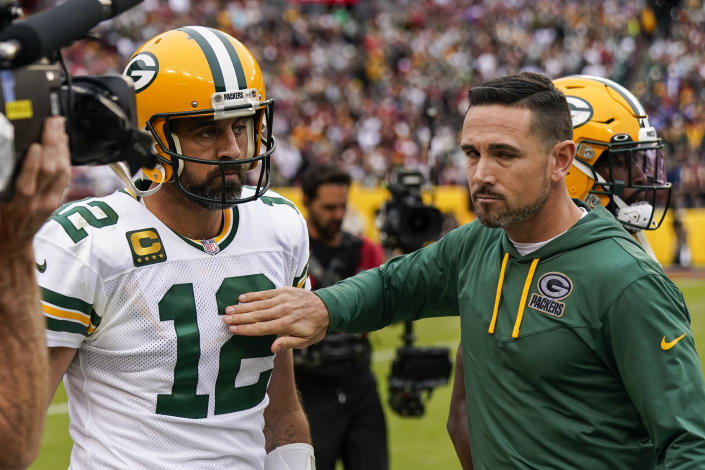 The Green Bay Packers era of dominance is over. The only question now is will they win another game. The way their offense is performing it's not likely to happen anytime soon. Certainly not Sunday night in Buffalo. That has the makings of a funeral on national TV for the Aaron Rodgers' era Packers. It will be ugly.
Against the Commanders the Packers were beat in every way, shape and form. If not for an excuse me TD in the last minutes it was every bit as bad as the Jets game a week ago. Quarterback Aaron Rodgers was once again off target and when he was on target his receivers dropped the ball. At least eight drops were the unofficial count. Add in nine penalties, a muffed punt, and an oh-fer on third and fourth downs and you get a third loss in a row for the Packers. This is inexcusable for a team with this talent.
The Packers would probably have a pretty good defense if they weren't on the field for 40 minutes a game. A lot of that is their own doing, though. Washington had guys running wide open on every big third-down play. And the Commanders are not exactly an offensive juggernaut. The Buffalo Bills are an offensive juggernaut. The NFL might have to order a running clock in the second half next Sunday like they do in high school routs.
Seats getting warm at 1265 Lombardi Ave.
General manager Brian Gutekunst is certainly under scrutiny a little more these days as well. He had his chance to sign Davante Adams last offseason and didn't do it. To say what happened backfired would be an understatement. And by kissing Rodgers' ass to the tune of the highest paid player ever the Packers are in deep shit now that Rodgers can't play anymore.
But easily it's LaFleur who is under the most heat. Three straight playoff failures, two of them at home. And now he has a 3-4 start with the best team in football coming up in the NFL's showcase game. He likes to say this is a big boys league, well, welcome to the NFL young fella. That's Not For Long in case you were wondering.