It's that time of year. Players' aren't thinking naughty or nice. They're thinking performance and pay. If I were Elgton Jenkins, I'd have dollars dancing like sugar plums in my head, knowing what soon might be under the tree.
Exerting his dominance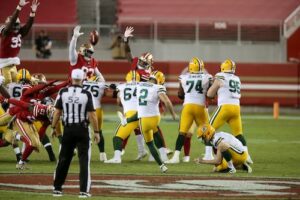 The last time the "Elgetron" squared off against the Rams Aaron Donald, the rising star put on a clinic. When it comes to interior defensive lineman, Donald has been the NFL gold-standard for more than 7-years. As much as anyone, he was the key to their Super Bowl win in February.
Donald was a bit hobbled coming into that 2020 playoff match at Lambeau. Faced up against Jenkins most of the game Donald was rendered invisible. Jenkins so frustrated him that Donald lost his cool and started a couple shoving matches in the 2nd half.  When a 2nd year guard can fluster a 3-time Defensive Player of the Year, that makes a statement. The Rams had no answer for Jenkins, or the Packers (then) three headed back field of Aaron Jones, Jamal Williams and AJ Dillon.
Free agent finish line
While the rest of us are thinking about funky playoff scenario's and the coming off-season QB drama, Elgton Jenkins is thinking about putting together game tape that says "pay me" or "be sorry."
Jenkins has the Packers in an odd spot. He has not had his best season, not even close, but most players don't coming back from an ACL tear. With the unknowns around the future of the Packers current "franchise" lineman, David Bakhtiari, Green Bay can't afford to let Jenkins youth and talent get away.
It's a sticky wicket for Green Bay in that they're certainly ready to make Jenkins one of the highest paid guards in the league. But they can't really afford to pay him like a left-tackle.. Jenkins has demonstrated he can play any position on the line, including left-tackle. His performance this year shows guard is where he's at his best.
Anything but meaningless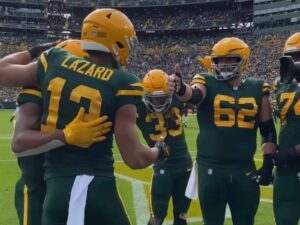 Don't tell Jenkins or Alan Lazard or Adrian Amos or a half dozen other guys that these final 4-games don't matter. They know very well the Packers playoff hopes are slim. These games are about their job! A lot of NFL players never get a second contract, much less a third. They have short windows to make money while their bodies can still hold up to the rigors of the NFL.
Aaron Donald is once again hurt coming into the Monday night game at Lambeau. You better believe Elgton Jenkins hopes that Donald plays so he can show the Packers, and a national audience, why the Packers must pay the man.