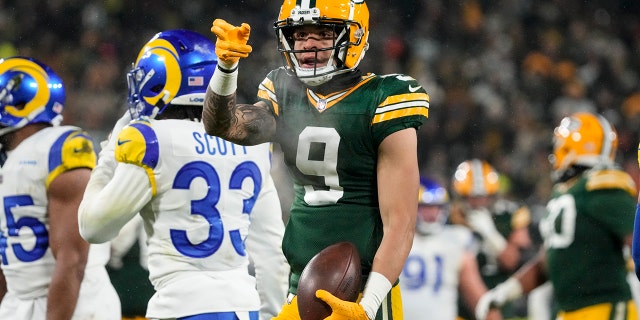 To say that this Green Bay Packers season has been a disappointment would be an understatement. Also, to say that it was a surprise would be a lie, considering how poorly they handled things in the off-season.
Losing Davante Adams and Marquez Valdes-Scantling was a major blow for the team. They were also some glaring holes in the offensive line, so it wasn't all that shocking to see a frustrated Aaron Rodgers struggling to hit his unproven wideout corps in stride. You can check out the latest odds for the Packers right now and how sportsbooks predict the future of the team.
The Packers did make some interesting picks in the NFL Draft to try and fill in for their gone stars. But Christian Watson, the second-round pick who seemed poised to be their go-to guy, looked more like a bust than a potential star. That's until he finally turned the corner, as he's now been the best player on the team by a wide margin.
The Rookie Is Overcoming The Early Struggles
It took him multiple injuries, some head-scratching drops, and 10 weeks, but Christian Watson finally arrived. He now has eight touchdowns in the past four weeks, becoming the first Packers rookie WR to log multiple touchdown receptions in back-to-back weeks since the great Max McGee in 1954.
"I'd say here and there, but it's a quick bounce back," Watson said after his career breakout game. "Obviously, got a lot of guys rallying around me, a lot of guys building that confidence back up in me. It just comes down to a lot of self-talk, too, just leaning back on my preparation, leaning back on my work and just know that drops are going to happen, bad plays are going to happen. You've just got to make the most of the next opportunity."
Aaron Rodgers said he was proud of him for not letting the drops and miscues get the best of his game. He added that all he needed to 'exorcise those energetic demons' was to get that first TD reception once and for all:
"We had a lot of plays designed for him, so I don't think there was any other option," the QB said. "I think that (first touchdown) probably on the atomic level shifted a lot of different things for him, exorcising some energetic demons. I'm proud of him. He made some plays."
A New Dynamic Duo In Lambeau
Before Watson's breakout, fellow rookie Romeo Doubs was stealing all the headlines in Lambeau Field. However, they haven't been able to be at their best together, as Doubs has been out with an injury. Now, they're finally expected to be both at full strength, which is obviously great news for Matt LaFleur:
"Man, I think it'll be huge," Watson said. "We have a lot of guys in our receiver room who have the capabilities and the talent to be out there and make plays. So, obviously the more the merrier. Obviously having seen Doubs' success early in the season, I'm going to be happy when he's back out there."
"Yeah, I'm looking forward to it, man," Doubs said of teaming up with Watson.  "Christian has been balling. I can't wait to be out there with him because we've been looking forward to that opportunity. I can't wait to see it happen."
All things considered, the Packers are far from contenders right now, even with Rodgers behind center. But if their two young studs can hit their stride and build some rapport and prove their worth in this league, then this might not be a full waste of a season as most analysts thought it'd be.