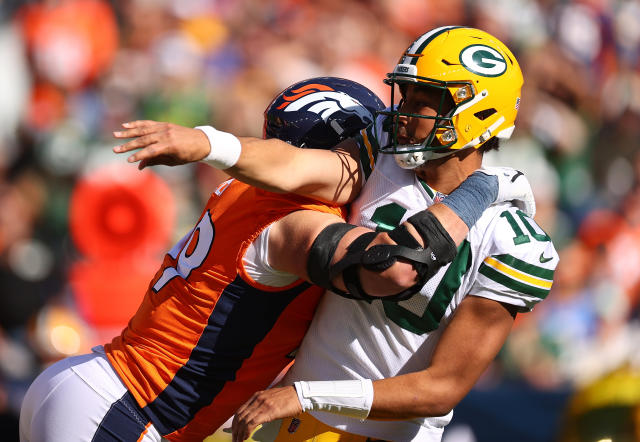 The Green Bay Packers are six games into the Jordan Love Experience and it's becoming an increasingly bad experience. For the second straight game Love threw a terrible last pass that was intercepted, ending the Packers' comeback hopes. This one was about as ugly as it gets in the NFL. Starting quarterbacks simply don't make that throw. So the Packers fall to 2-4 and tied for third place in the division with the Bears pending the Vikings game tonight. Oh oh.
The Packers' offense was once again a no-show in the first half. They were completely shut down by the NFL's worst defense. Just as anticipated here yesterday. Head coach Matt LaFleur had two weeks to prepare for the game and the team looked even worse than it did against the Raiders. It makes you wonder how this guy ever won a game in this league. He went 8-9 with Aaron Rodgers last year and will be lucky to win four games this year.
Three years for that?
LaFleur spent three years grooming Love to be a starter and designing a game plan around him. The results so far have not been pretty. While all LaFleur's buddies are lighting it up in places like San Francisco, Miami and Cincinnati, the Packers are stuck in the mud. And that mud is quicksand. I hope Packers' president Mark Murphy still has his short list of coaches ready, losing is not an option for this franchise. Not in this city.
The Packers' defense again held it's opponent under 20 points but they can never get the big stop when they really need it. After the Packers took the lead it let the Broncos march right down the field for the game winning field goal. I know they are not getting any help from the offense, but they are going to have to find a way to win games while the offense struggles. I don't think they can.
This was another penalty filled affair, too. Veteran guard Elgton Jenkins essentially cost the Packers the game with a holding call when the Packers were just a few yards from a solid field attempt. Just another sign of a very poorly coached team. There are no repercussions for mistakes. It's a country club at 1265 Lombardi Avenue. You simply can't make mistakes like that and win in the NFL.
Who knows, maybe it will all click at some point for Love. The Packers have two home games coming up and four straight noon games. Maybe he can settle down a little and show some improvement. If not, the Packers might as well see what that have in Sean Clifford. They could be drafting in the top five next year and need to know if they need a QB or not. Yep, it's come to that.