The Green Bay Packers and head coach Matt LaFleur have hired Joe Barry as their new defensive coordinator. Almost immediately I was longing for the good ole' days of Mike Pettine and the leagues ninth ranked defense. Ugh!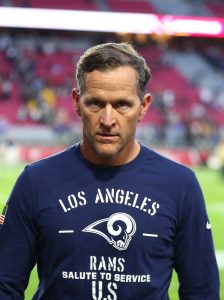 Obviously I'm just a fan, but to me the clear choice was Chris Harris. I have read he was a close second (or third if you count Jim Leonhard) to Barry for the job. I really wish LaFleur would have went with one of the young guns instead of a retread with two failed stints as a defensive coordinator. Especially a guy who has rode the coattails of family and friends as opposed to merit to get to this point. I bet a check of Virginia sports betting apps or other sportsbooks won't be making the Packers next years Super Bowl favorites anytime soon.
Low on my list
When the list of candidates was originally leaked, Barry was the one I wanted the least. I should have known right then and there he was going to get hired. I didn't think Leonhard would leave Wisconsin and quite frankly, I think he did himself and the Packers a disservice by even interviewing for a job he was unlikely to take. Maybe Leonhard had exorbitant salary demands and/or Wisconsin sweetened the pot. Either way, it never should have gotten as far as an offer if you ask me.
It's not like we have any choice but to give the man a chance. Maybe the third time will be a charm. Maybe LaFleur, who is thinking about giving up play calling on offense, will be taking a more hands on approach to his defense. That approach failed miserably under previous head coach Mike McCarthy, but I think there is a better chance of success with Nathaniel Hackett than there was with Tom Clements at the time.
What does it mean?
This decision is will have huge ramifications on LaFleur's coaching career. If Barry can do what Todd Bowles has done in Tampa and get the Packers to the Super Bowl everybody will forget LaFleur's terrible decision to take the ball out of his MVP quarterback's hands with the NFC Championship on the line. If Barry fails, that decision, and this hire, could very well mean the Packers are looking for a head coach again in the two or three years. Things have a tendency to go south fast in this league.
But for now I'll give LaFleur the benefit of the doubt. Maybe a third-hand version of the Vic Fangio defense is all we need.